Our custom metal fabrication department has a wide range of capabilities. From replicating existing assemblies, working from drawings, or tailor designing a custom assembly for your application, we can do the job. At Lindsay Machine Works, we have the skills and equipment to complete your project as you request. Above all, Lindsay Machine Works specializes in customization, even when this involves a complicated project. We offer a wide range of metal fabrication services; we stand behind all of our work. Our high-quality work will go beyond your greatest expectations. Furthermore, we take pride in providing our customers with top-notch metal fabrication in the Kansas City area. Additionally, our customer service is second to none. Give us a chance to earn your business.
Let's get into some specifics: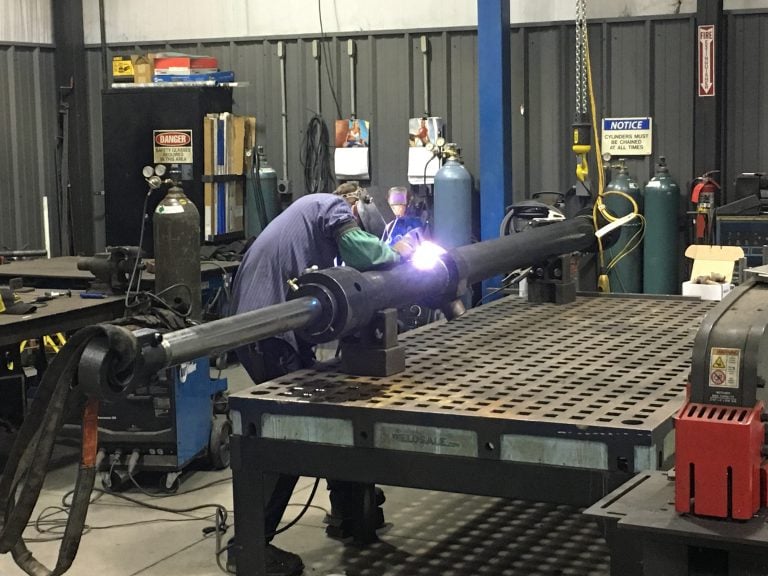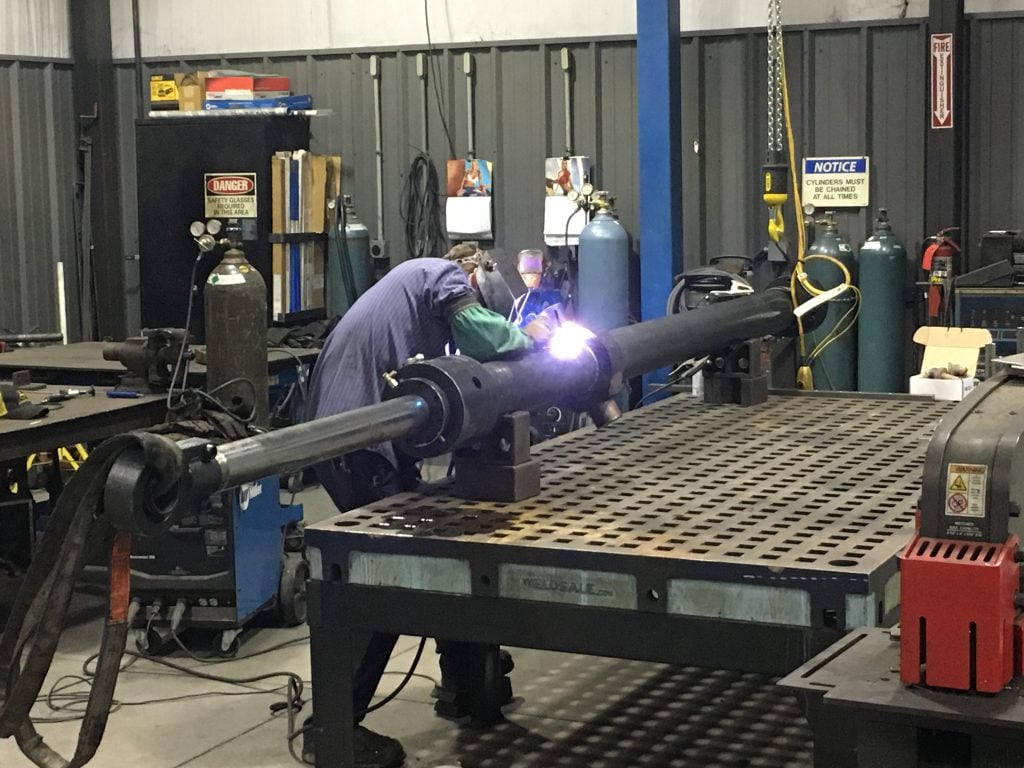 Working within a variety of materials is no problem for our highly trained, skillful welders. As you'll see, our fabrication capabilities allow for each job completion to be successful in the eyes of our customers. We strive every day to stay ahead of our competitors, to provide the highest quality welding services.
Welding Capabilities:
GMAW/MIG/MAG –

Gas metal arc welding, metal inert gas welding or metal active gas welding

GTAW/TIG –

Gas tungsten arc welding or tungsten inert gas welding

SMAW/MMA/MMAW –

Shielded metal arc welding, manual metal arc welding, or flux shielded arc
Metal Fabrication
At Lindsay Machine Works, we strive to work efficiently and accurately to get your project to completion. From the first to the last piece, we verify that our fabrication work is within desired tolerances. Additionally, our customers return to us when they have a need for fabrication.
Fabrication Capabilities: 
CNC Press Brake: High Precision bending – 1/4″ Thick up to 4′ Wide
Press Brake: 3/8" Thick up to 10' Wide
Plate Roller: 3/8" Thick up to 6.5' Wide – Creates barrels or rings
Angle/Tube Roller: For rolling rings of tubing, round stock or angle
Shear: 1/4" Thick up to 12' Wide for Mild Steel
We also have plate cutting capabilities: Waterjet and CNC Plasma. 
5 KEY BENEFITS OF USING CUSTOM METAL FABRICATION
Do you think that using a metal fabrication company that specializes in the customization of metal parts will be more costly than using generic metal fab shops? You are wrong. Check out how custom metal fabrication companies might be cheaper and discover the other benefits of using a metal fabrication company that specializes in customization.
1. MORE ADVANCED METHODS
Using a custom metal fabrication shop ensures that your project is handled and created with more advanced methods.
These companies have an array of special machinery and tools at their disposal. This means that you get the metal you want in the way that is best for your project.
Normal fabrication relies on traditional methods, such as metal welding. But advanced methods include waterjet cutting which can be carried out by high precision tools.
So, if you want specialized metal and a high-quality product, rely on a shop that can handle the project.
2. GET EXACTLY WHAT YOU WANT
If you go into a shop, you might not be able to get the specifications of the exact parts that you require, so it might ruin your project.
An obvious benefit of using a metal fabrication company that specializes in high-precision parts is that you can get exactly what you want. The experts will be able to design parts that are unique to your project.
You can also discuss your requirements with the expert, so you can find out what else you might need. You'll be able to choose what part you want and what metal you want it to be made from.
3. GET CHEAPER MATERIALS
You might be able to get cheaper metal parts if you go to a custom metal fabrication company.
How? Well, often the metal fabricators will have good working relationships with the providers of the materials that you require.
This means that they can get good trade discounts and can get their products at competitive prices.
In turn, this means that the fabrication shop is able to give you a good deal on the products you need.
The metal fabricator's close working relationship with providers also ensures that you receive a top-quality product that is finished to a high standard.
4. SKILLED WORKERS
Due to custom fabrication being a specialized industry, you can be confident that your machinists are highly skilled experts.
The experts will have years of experience, so if you need extra assistance with your project, they'll be able to help.
If you aren't sure about what metal you'll need or the size of a metal part that you need, you can consult your metal fabricator.
The years of experience that your fabricator experts have will also ensure that you get a high-quality product for your project.
5. QUALITY EQUIPMENT
Similar to more advanced methods, metal fabrication companies also have quality equipment.
A custom metal fabricator will have an array of modern equipment that ensures better quality and in some cases a faster turnaround time for your parts.
Generic metal shops aren't able to produce a product that is as high-quality, because this equipment can be costly. But custom metal fab companies specialize in customized cuts, so they will have all the equipment that you need to create quality metal parts for your project.