CONSTRUCTION EQUIPMENT METAL PARTS FABRICATION & MANUFACTURING
Are you in need of fabrication or manufacturing services for metal parts used in construction equipment? Lindsay Machine Works, Inc. is the go-to choice for heavy industrial and construction businesses seeking fast, efficient, and high-quality service to keep their equipment running smoothly and efficiently.
Our team of experts at Lindsay Machine Works, Inc. understands how essential it is for your machinery to be in optimal working condition. That's why we strive to provide exceptional welding repairs, parts modifications, and remanufactured OEM replacement parts services that cater to your specific needs. We work diligently to ensure that your equipment is back up and running as good as new in no time.
Capabilities for All Types of Construction Equipment Parts
At Lindsay Machine Works, Inc., we take pride in offering a comprehensive range of services that are tailored to meet your unique requirements.
Fabrication & machining obstacles can be overcome with our expert capabilities which include CNC Machining, CNC Plasma, CNC Waterjet, Manual Machining, Braking, and Welding. We know that having your construction equipment functioning properly is your top priority.
With our years of experience in the industry, we have gained a reputation for providing reliable and trustworthy service that exceeds our client's expectations. Our state-of-the-art facility is equipped with advanced technology and machinery that enables us to deliver precise and accurate results every time.
Don't let faulty equipment slow down your operations; contact us today to learn more about how we can help you keep your machinery running smoothly with fast, professional, and quality service!
Types of Parts Fabrication
Broken Equipment Parts
Replacement Parts
Custom Parts Fabrication
Part Modification
Parts for These Types of Equipment
Excavators
Backhoes
Dragline Excavators
Bulldozers
Graders
Loaders
Tower Cranes
Dump Trucks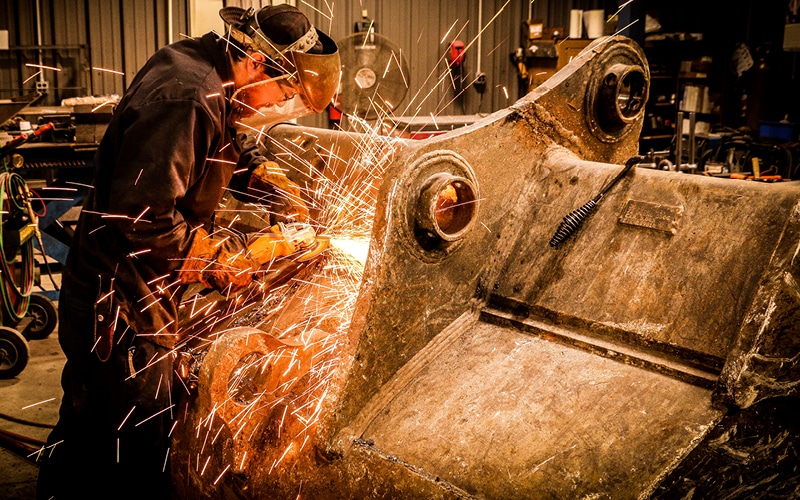 FOR CONSTRUCTION EQUIPMENT METAL PARTS FABRICATION & MANUFACTURING,
CONTACT US AT (816) 257-1166 OR SUBMIT A QUOTE REQUEST.