Water Jet Machine Cutting
The Water Jet takes ordinary tap water and pressurizes it to 60,000 psi (4,000 bar). It is then pumped through an orifice, mixing water and garnet abrasive making it an extremely precise cutting machine…
Water Jets can cut almost any material into shapes and intricacies not economically matched by any other process.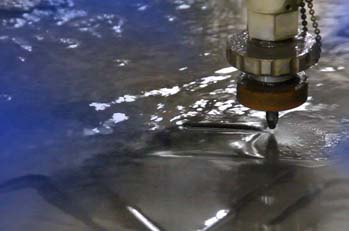 The most used materials are metals especially steel, aluminum and titanium, as well as, plastics of all types, wood and even glass. Our Flow Water Jet Machine can cut intricate shapes to a high precision quickly and efficiently.
One of the major advantages of water jet machining is the fact that it is a "cool process" and therefore does not thermally distort the work piece.
_______________________________________________________________________________________________________