3 Axis – 4 Axis – 5 Axis – CNC Live Tooling Turning Center
At Lindsay Machine Works we offer Ultra Precision Machining to all of our machine shop customers.  Using the Hurco 3, 4 and 5 Axis Milling Centers, and the Haas DS-30SSY (dual spindle – live tooling), we are able to create and maintain extremely precise tolerances, making these processes favored ­­­among many manufacturing mechanical engineers.

Our  h

ighly  skilled  machinists  are  trained  and  experienced  in  operating  all  of  our  multi-axis  machines.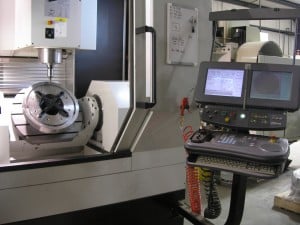 Furthermore, the Lindsay machinists makes sure the job measures up to our quality assurance inspections on a consistent basis.   These machines and their operators are able to deliver small to large complex parts, quickly, efficiently and correctly.
Lindsay Machine Works has offered multi-axis machining for several years, while maintaining a strong and extensive manual machine shop as well.   
[youtube]https://youtu.be/fwcFV_4QkHI[/youtube]
[social_share style="bar" align="horizontal" heading_align="inline" text="" heading="" facebook="1″ twitter="1″ google_plus="1″ linkedin="1″ pinterest="1″ link="" /]
Lindsay Machine Works, Inc. offers several 5 axis, 4 axis And 3 axis CNC  machining choices, depending on your needs:
CNC Capabilities:
Turning: Up to 26" x 80"
Milling: Up to 32" x 64"
3-Axis Machining Centers
4-Axis Machining Centers
5-Axis Machining Centers
Call for an RFQ Today!
(816) 257-1166