Kansas City Business Journal
Dateline Oct 22, 2010
Lindsay Machine Works Inc.'s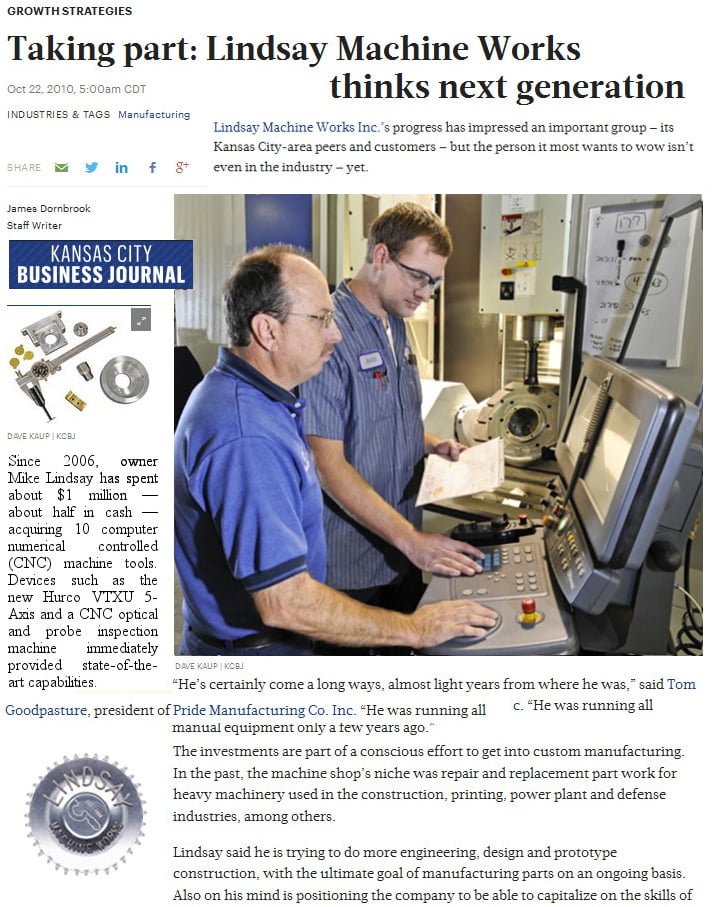 progress has impressed an important group — its Kansas City-area peers and customers — but the person it most wants to wow isn't even in the industry — yet.
Since 2006, owner Mike Lindsay
has spent about $1 million — about half in cash — acquiring 10 computer numerical controlled (CNC) machine tools. Devices such as the new Hurco VTXU 5-Axis and a CNC optical and probe inspection machine immediately provided state-of-the-art capabilities.
"He's certainly come a long ways, almost light years from where he was," said Tom Goodpasture, president of Pride Manufacturing Co.
Inc. "He was running all manual equipment only a few years ago."
The investments are part of a conscious effort to get into custom manufacturing. In the past, the machine shop's niche was repair and replacement part work for heavy machinery used in the construction, printing, power plant and defense industries, among others.
Lindsay said he is trying to do more engineering, design and prototype construction, with the ultimate goal of manufacturing parts on an ongoing basis. Also on his mind is positioning the company to be able to capitalize on the skills of a budding engineer in the family who is interested in the business.
His daughter, Rachel, is a freshman at Purdue University. She plans to major in mechanical engineering and double minor in manufacturing and business.
Update:  August 19th 2015
Rachel Lindsay served two paid internships with Apple Inc. in Cupertino CA while attending Purdue University.  Then she graduated from Purdue University with a BS in Mechanical Engineering and minors in Manufacturing and Entrepreneurship.  Since graduation she has been working for General Electric, Energy Management in their Operations Management Leadership Program (OLMP) gaining valuable experience.