Kansas City, Mo (March 2, 2016) – Lindsay Machine Works Inc. machine shop now offers industrial grade plastic FDMTM 3D Printing in the Kansas City area using the Fortus 380mc 3D Printer.
The Stratsys Fortus 380mc uses FDMTM (fused deposition modeling) technology. The Lindsay Machine Works' 3D production system is designed to provide high-quality engineering grade parts. These parts can be used to create jigs and fixtures for manufacturing or to reduce the time to bring a product to market, as well as produce low volume end-use parts. From functional prototypes with exacting tolerances, to manufacturing tools that perform under pressure, the Fortus 380mc 3D Production Printing System is sets the bar high for speed, accuracy and performance.
This is the only professional 3D printing technology that uses production-grade ABS thermoplastics.
Stratasys, a 3D printer and FDM materials manufacturing company here in the United States, is responsible for the powerful Stratasys-patented additive manufacturing method or FDM (fused deposition modeling) technology. Lindsay Machine Works is able to 3D print using FDM technology for builds like concept models, functional prototypes and end-use parts in standard and engineering-grade thermoplastics.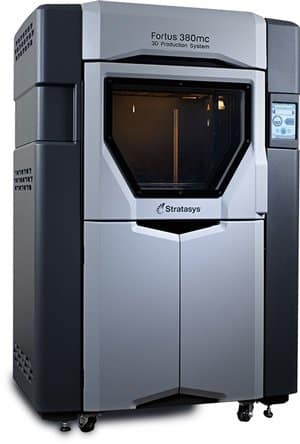 The Fortus 380mc
The Fortus 380mc has even temperature distribution in the build chamber. On average, the 3D printer can build parts up to 20 percent faster with a build envelope of 14 in. x 12 in. x 12 in. (355mm x 305mm x 305mm) it can produce layer resolutions ranging from 0.005 in. to 0.013 in. (0.127mm to 0.330mm).
Production-grade thermoplastics and polycarbonates
Builds with many of the same standard, engineering-grade and high-performance thermoplastics and polycarbonates that you use in traditional manufacturing processes.
Speed and efficiency
Produce high-tolerance, complex parts faster than ever.
Flexibility and control
Embed hardware or circuitry, fine-tune part performance, optimize build speed or achieve a smoother finish. Advanced features of the internal software allow ultimate control over build parameters.
Lindsay offers customers Standard (ABS) and Engineering (PC) materials for 3D printing.
[social_share style="bar" align="horizontal" heading_align="inline" text="" heading="" facebook="1″ twitter="1″ google_plus="1″ linkedin="1″ pinterest="1″ link="" /]