[social_share style="bar" align="horizontal" heading_align="inline" text="" heading="" facebook="1″ twitter="1″ google_plus="1″ linkedin="1″ pinterest="1″ link="" /]
This precision machine shop's packing up and heading to the Overland Park Convention Center on May 3rd and 4th for the AmCon Design and Manufacturing EXPO.  Check out our booth, number 401, in the front of the tradeshow area.  Look for the large Lindsay Machine Works logo gear!
Mike and Michelle from Lindsay Machine Works will be displaying the shops' capabilities using videos, images, pamphlets and an impressive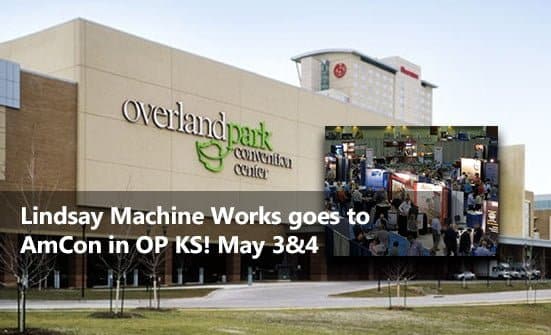 array of parts.  Attendance and parking are free, so what are you waiting for?
Head on down to the Overland Park Convention Center and meet up with us!  Take a look at some of the things we are most proud of, best at and have fun talking about, like; 3D Printing, Multi-Axis Machining, our Waterjet and more…
We are an Emergency service shop and a HOT Job shop, if you're in a bind, we are the ones to call.  Come and check out our booth, see you there!