A Lindsay Machine Works' customer needs several hundred of these parts quickly made for their assembly line. Us
ing one machine, the machinist cle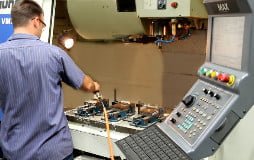 verly devises a way to consolidate set-ups.
This part requires the material Tecaform SD, a static dissipative acetal copolymer.  Tecaform SD is generally accepted for clean room "best practices" and possess no carbon fibers or powders. It has a surface resistance of 109 to 1011 ohm/square, with great bearing and wear. This acetal copolymer is great for moving parts which can build up friction.
Having the right plastic material, the machinist programs the mill so each position is machined precisely, as dictated by the drawing. Each completed run leaves a finished part after the last set-up.  Parts are inspected and cleaned, making them ready for our client. Just another fast turn-around at Lindsay Machine Works Inc.