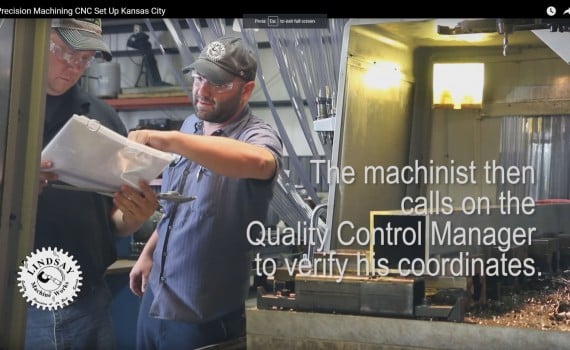 [social_share style="bar" align="horizontal" heading_align="inline" text="" heading="" facebook="1″ twitter="1″ google_plus="1″ linkedin="1″ pinterest="1″ link="" /] At Lindsay Machine Works, we make sure all parts or fabrications we take on is managed precisely.  We utilize over 50 machines and processes in our machine shop which is located just outside of Kansas City south of the intersection of Missouri Highways 210 and 291.
It takes a considerable amount of skill and experience to be able to set-up our CNC machines.  The machinist begins by studying the drawing.   Lindsay Machine Works is capable of producing accurate drawings through reverse engineering, but in this case, the drawing was sent by the client.
This part comes from a high tech communications company in the Kansas City area.  It calls for 6061 aluminum tubing.  The machine (or multiple machines as the case may be) is assigned according to the needed processes.  The Haas VF6 Vertical Mill is chosen as the best machine for this job.
The machinist calculates and sets-up the work coordinates from the information provided by the drawing.   He then selects the right tooling, and begins making preliminary marks on the part to indicate the work coordinates that have been set-up.
The machinist then calls on the Quality Control Manager to verify his coordinates.  Once the set-up is approved, he makes a test run and optimizes the machine for production.  The machinist pays close attention to the process as it is being run.  The part is rechecked for accuracy by QC when it is finished.
At Lindsay Machine Works, our machinists are skilled and cross-trained, providing our customers the assurance that we get it right the first time and every time.