Precision CNC Turning and Milling – Prototypes – CAD – OEM
At Lindsay Machine Works, Inc. one of four most sought after capabilities is our Ultra Precision, 5-axis CNC Mills. CNC Turning and Milling – Prototypes – CAD – OEM, the 5 axis CNC milling offers the ability to machine more features on more sides with less re-positioning and fixturing.  Less than a standard 3 axis Mill. The cutter in the milling machine is able to move along multiple sides, and can create a variety of shapes, slots and holes more economically.
Lindsay Machine Works, Inc. offers several 5 axis machining CNC milling choices, depending on your needs:
Standard Capacity CNC Mill:
X – 12″
Y – 11″
Z – 7.25″
Large Capacity CNC Mill:
X – 24″
Y – 24″
Z – 12.8″


Computer numeric controlled (CNC) machining centers are ideal to produce a wide variety of components. Quantities range from prototyping to long and short-run production of complex parts.
Usually, CNC Milling is described by the number of axis you can machine in one set-up.
These axis are labeled with various letters. X designates side-to-side, Y designates forward and back movement of the work-piece on a flat plane.
Z represents vertical, or up-and-down, movement, while C represents rotation and A represents the tilt of the trunnion.
Lindsay Machine Works, Inc. CNC Machining Centers offer from 3 to 5 axis machining. Advanced machines, such as 5-axis machining centers, can require CAM programming for optimal performance.
This is due to the incredibly complex geometries involved in the machining process.
These CNC Machining Centers are extremely useful because they are able to produce shapes that would be almost impossible using manual machine tools.
(materials milled: steel, aluminum,
titanium, and a wide variety plastics)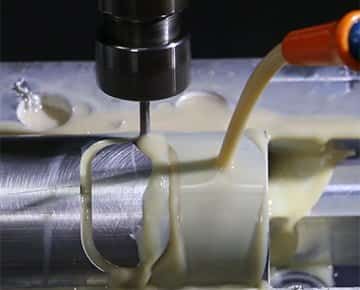 CNC (Computer Numerical Control)
Turning: Up to 26" x 80"
CNC (Computer Numerical Control)
Milling: Up to 30" x 64"
(10) CNC (Computer Numerical Control)
3-Axis Machining Centers
(2) CNC (Computer Numerical Control)
4-Axis Machining Centers
(3) CNC (Computer Numerical Control)
5-Axis Machining Centers