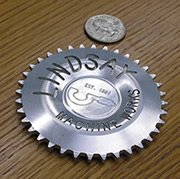 It used to be if you heard the word "branding" you immediately thought of cattle, followed by the distinct aroma of a farm.
Not today.  Today, every company—heck, every person is encouraged to develop their own "brand."
LMW has a number of signs in their shop, reminding the team to practice safety and to focus on a number of values that are important to our shop's success.
On an uncharacteristically slow day in 2006, one of our machining craftsman, Chris Berry, had an idea.  Inspired by the logo on our literature and shop signage, Chris approached Mike Lindsay asking if he'd mind if Chris machined a piece of aluminum into our logo shape.  Mike didn't mind one bit.  It's been a fun little conversation piece and Mike had Chris make a handful of them.
Today, this writer and several others would love to have one of the LMW "logos" of our own but -our guys are (gratefully) too busy with customer manufacturing requirements to stop and make these.
So, if you'd like a short run of your custom logo made out of metal or plastic, let us know.   It could very well be a design we can manufacture!